Airdrop Testing TON Blockchain Network Get Tokens Telegram
Tokens
Est. value
Ends in
Share this airdrop on social media:
---
More about
---
Required tools:
Airdrop Testing TON Blockchain Network Get Tokens Telegram
STEP 1
Download the official Test Gram Wallet here https://wallet.ton.org/ for Windows or Mac OS and copy your wallet address.
STEP 2
Open @test_ton_bot and ask him to top up your Test Gram Wallet with 20 test grams.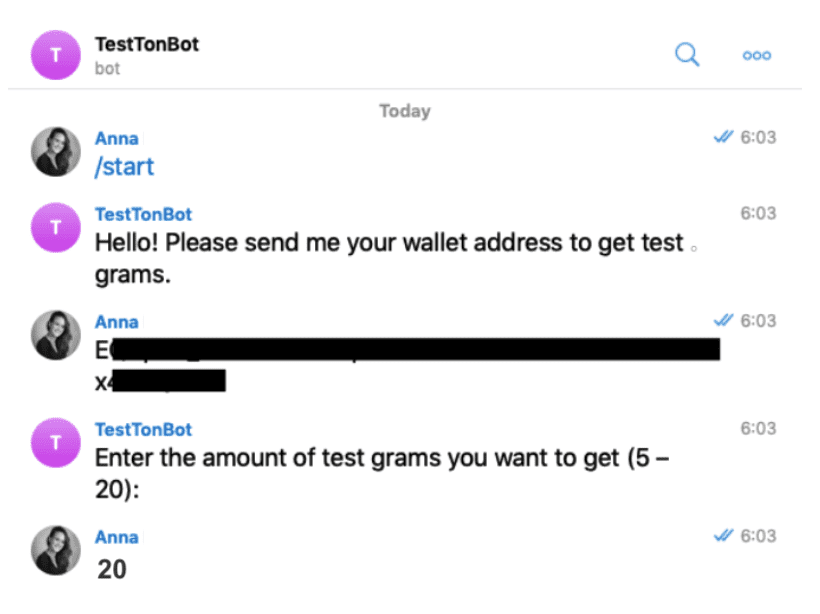 Note: Usually it takes 5-15 minutes to receive test grams from the bot if you ask him at the right time. If not, then delete all messages in the chat and start it again between 18:00 pm to 22:00 pm UTC or from 23:00 pm to 03:00 UTC.
Remember: Don't request the bot more than three times per day, otherwise, it says "Sorry. You are making too many requests, please try again later". If you got such a message then just wait for around 12 hours and repeat the process at the right time.
STEP 3
After you got 20 test grams .
Instructions Airdrop Testing TON Blockchain Network Get Tokens Telegram
---
Grams Wallet users can get test tokens
Users can now download the test wallet client from its website, create an address and receive private keys as well as request and test Gram tokens in the app via a special Telegram bot called TestTonBot.
Specifically, TestTonBot invites users to test out the service by requesting 5 to 20 tokens to the generated crypto address on the app. After users request a specific amount of tokens, the bot notifies them about the start of the request execution before sending a separate message that test Grams were credited to the wallet.
Transactions are tracked on the TON testnet
The test transactions are visible on the Telegram Open Network (TON) testnet explorer with details such as transaction time and amount as well as the TestTonBot's wallet address (sender) and the last recorded transaction.
Tag:
Airdrop Testing TON Blockchain
,
Get Tokens Telegram
,
Testing TON Blockchain Network Get Tokens Telegram
Share this airdrop on social media:
---
Recommended Airdrops you should join